About Us
TRUE STORY
"Hey fellas, do you have a minute for a story?"
During the "Border to Border" Motorcycle Cannonball in September of 2021, my brother Eric and I were campaigning our 1928 Harley-Davidson JD, with the same hope as the other 87 riders of antique motorcycles, to perform our best and finish the 3,715-mile journey across America . . .  unscathed.
We had recently become distributors of a remarkable product, the world's smallest and longest lasting fire extinguisher, and were anxious to share it with the antique motorcycle community.  During our evening pit-stop while performing maintenance and repairs, we were greeted by a fellow Cannonball participant that asked us if we had a minute for an interesting story . . . of course, we did.
On the previous day's ride into Spartanburg, South Carolina, our fellow participant, riding a 1928 Indian-Four, finished the day's endurance run.  While parking his motorcycle, an unnoticed fuel leak erupted into an enormous fire.  He quickly pulled his conventional pressurized extinguisher from his saddlebags only to have its discharge (10-12 seconds) fail to quench the blaze.  Lucky for him . . . and the 1928 Indian, another Cannonball biker was equipped with the Element Fire Extinguisher and promptly put out the engulfing fire.  The story was relayed to us by the thankful Indian rider as he wanted to buy two Element Fire Extinguishers . . . one to replace the extinguisher for the rider that saved his beloved Indian and one to replace the hapless conventional extinguisher . . . for himself.
Simply, they are amazingly convenient, have a long-lasting discharge (E50 is a 50 second discharge and the E100 is 100 seconds . . . whew!), they do not expire, create no mess, are non-toxic and, most importantly, . . . they work as advertised!
Bill and Eric Kitchen, 
Kitchen Bros., LLC
Frequently Asked Questions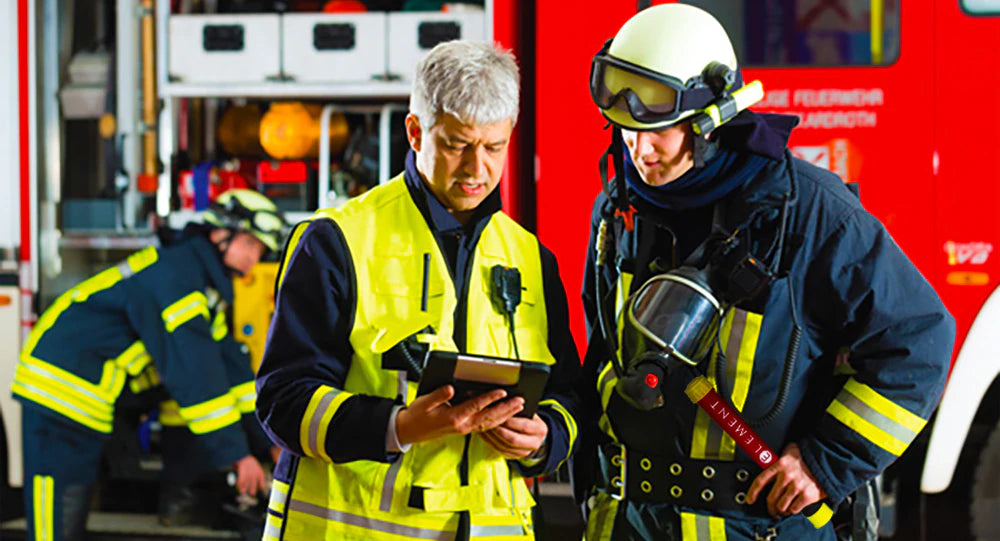 IS THE GAS SAFE TO BREATHE?

Element's discharge is safe to breathe and is both non-corrosive and non-toxic. General safe practices are always recommended and the discharge should not be aimed at a person's face.
DOES ELEMENT MAKE A MESS LIKE A TRADITIONAL EXTINGUISHER?

Element's discharge gas is totally clean and will not leave any residue. During discharge a chemical reaction does take place which occasionally expels a trace amount of soot from the casing. Even in the most extreme instance, the net total of discharge is so minuscule compared to a traditional extinguisher that it is effectively considered to be non-existent. Beyond the clean nature of the discharge Element is non-corrosive, non-toxic, and environmentally safe.
HOW DOES ELEMENT WORK?

Element works by fighting fires on the molecular level. Its gas chemically interrupts the chain of combustion effectively extinguishing a fire without making any mess and without removing surrounding oxygen.
HOW DO YOU BEST APPROACH A FIRE WITH AN ELEMENT EXTINGUISHER?

Unlike a dry chemical extinguisher that combats a blaze by depositing a large amount of solid powder on the fire, an Element extinguisher fights a fire by releasing a gas. This gas attaches itself to the oxygen surrounding the fire robbing its ability to stick to the chain of combustion (without affecting ones ability to breath that oxygen). The goal is therefore to use the gas coming out the Element extinguisher to create a 'cloud of containment' around a fire. Creating a cloud that prevents any outside and un-attached oxygen from getting to the fire is essential and is the same strategy that should also be used with a Halon/Halotron or CO2 extinguisher.




The two worst things you can do when fighting a fire with a gas extinguisher is to be too close or to rush the process. Being very close to a fire means that a cloud cannot be formed blocking any new oxygen that will continue to feed the flame. This is particularly problematic in an isolated pan situation where being too close will only chase the flames around. Rushing the process by moving the extinguisher around a lot also prevents a cloud from being formed and diminishes the performance of the extinguisher.




The best technique is to take advantage of the long discharge time offered by the Element extinguisher and to approach a fire from a moderate distance progressively getting closer to its source. During the approach, move the extinguisher slowly around the fire always directing towards the center. This will contain the fire and allow the gas the ability to work.




Tight areas with lots of pockets (like the engine bay of a car) brings out the strengths of the Element extinguisher as the gas, which is heavier than air, will fill all the voids not directly accessible; both putting out a fire and preventing a re-flash. 
DOES ELEMENT REQUIRE SERVICE & DOES IT EXPIRE?

Element's solid construction, no moving parts, and lack of compressed gas (unlike a traditional fire extinguisher) means it will never need any service or upkeep. In addition the solid chemical that makes up the Element extinguisher has no effective expiration.
IS ELEMENT CERTIFIED?

Originating in Italy, Element has been certified by CE Europe, TUV, and the RINA maritime authority. Institutionally it has been tested and certified for use by multiple international military and police groups who have adopted it for active use.




In North America, Underwriters Laboratories (UL) controls the certification of portable fire extinguishers. UL does their testing to a standard that includes a form (physical shape) component as well as a performance component. Because Element's form does not meet UL's definition of what a fire extinguisher looks like (i.e. compressed gas cylinder with a hose and measurement gauge) it is passed over for performance testing.




In fixed extinguishing installations, the effectiveness of Element's aerosol fire suppression technology has already been recognized & approved by UL for several decades as part of the UL2775 certification protocol. UL is now being campaigned to update its portable fire extinguisher standard in order to recognize Element's innovative design and allow it an opportunity to be tested and certified.




Until the standards are formally updated Element cannot be used to substitute extinguishers in regulated environments that require a UL (or UL endorsed) certification. In these settings Element can however be used as a supplement to the mandatory devices.




In non-regulated environments (car, home, personal garage,etc.) Element can be used exclusively and without restriction.
IS ELEMENT SAFE AROUND CHILDREN AND PETS?

Element discharges a non-toxic gas that will not harm children and animals. General safe practices are always recommended and the discharge should not be aimed directly at a child or animal.
IS ELEMENT ONLY FOR ANTIQUE MOTORCYCLES?

NO! Fire does not play favorites of where it burns and Element is perfect for any environment where a fire may occur. This includes homes, boats, cars, ATV's/ UTV's, campers, garages, offices, workshops, trailers, and more and more.